Six Russian Su-34 Fullback Bombers Have Just Arrived In Syria. And This Is The Route They Have Likely Flown To Get There.
The Russian military build up continues as six Su-34 Fullback attack planes arrive in Syria.
Six Sukhoi Su-34 aircraft have eventually arrived at Latakia to join the Russian contingent already there.
Images allegedly shot around the al-Assad International Airport clearly show one Russian Fullback about to land at the airbase in western Syria where 28 Russian aircraft have arrived last week.
@ain92ru @pfc_joker @oryxspioenkop They arrived! pic.twitter.com/JCi4bIT4F5

— LuftwaffeAS (@LuftwaffeAS) 28 Settembre 2015
One of the photos taken from the ground shows the six aircraft trailing what seems to be an airliner over Idlib: the larger plane is probably a Russian Air Force Tu-154.
Said to be an airliner/transporter accompanied with 6 fighters crossing over Hama country side pic.twitter.com/cPbjVZssyi — LuftwaffeAS (@LuftwaffeAS) 28 Settembre 2015
Interestingly, a Russian Air Force Tu-154 using callsign RFF7085 could be tracked online on Flightradar24 during its flight to Latakia on Sept. 28, likely exposing the route followed by the six Su-34s trailing their accompanying Tu-154.
As the below image shows, the aircraft flew in international airspace over the Caspian Sea, to Iran and entered Syrian airspace after flying over northern Iraq: did the Su-34s have all the required diplomatic clearances to fly north of Baghdad or did they simply "sneak" into Syria by hiding under the cover of the transport plane?
Hard to say.
Last week, US officials said that the first 28 Russian combat planes hid under the radar signature on the larger transport aircraft, in an attempt to avoid detection but there are chances that the flights had all the required clearances from the Iraqi Air Traffic Control agencies and were conducted as a standard long-range ferry flight: one tanker/airlifter, using radio and transponder, supporting multiple fast jets.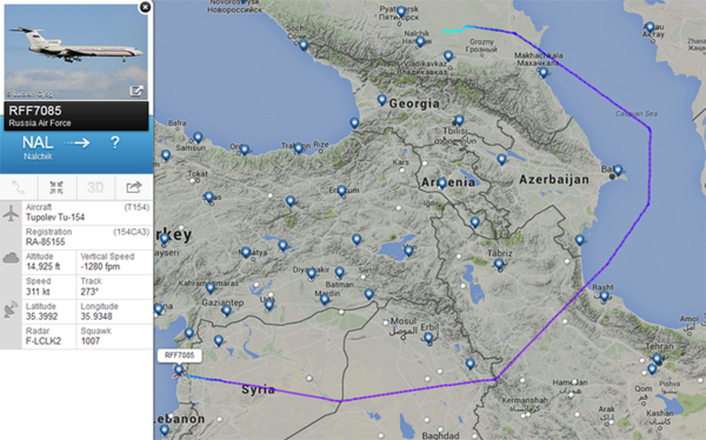 H/T to @LuftwaffeAS and @obretix. Image credit: Flightradar24.com.
Related articles
Russia's Military Buildup in Syria Targets US: NATO Chief
U.S. Air Force Gen. Philip Breedlove, NATO's Supreme Allied Commander, warned Monday of the potential direct threat to the U.S. military from Russia's buildup in Syria, even as he backed talks with Russian President Vladimir Putin to ease the crisis.
Breedlove said Putin's claim that the buildup was aimed at ISIS was bogus.
"I have not seen ISIL flying any aircraft requiring SA-15s or Sa-22s," Breedlove said, referring to Russian anti-air missile batteries sent to Syria and using another term for the Islamic State of Iraq and Syria, or ISIS (also known as ISIL).
In a roundabout way, Breedlove, who doubles as head of U.S. European Command, suggested to a forum at the German Marshall Fund in Washington, D.C., that Russia's deployment of fighter aircraft, anti-air missile batteries, troops and tanks to Syria could only be seen as an effort to prop up the regime of Syrian President Bashar al-Assad.
"Is this really about ISIL? We see some very sophisticated air defenses going into those airfields" in Syria, he said. "We some very sophisticated air-to-aircraft," Breedlove said.
The commander said the Russian buildup could best been seen as aimed at the U.S. and others who have called for Assad's ouster.
"These very sophisticated air defense capabilities are not about ISIL, they're about something else. High on Mr. Putin's list in Syria is preserving the regime against those that are putting pressure on the regime and against those that they see who might be supporting those putting pressure on the regime," he said.
Breedlove said he also was concerned about Russia developing a defensive "bubble" of so-called anti-access, area-denial (A2AD) anti-ship and anti-air missiles around the naval base of Tartus that Russia has maintained in northeastern Syria for decades.
"It's one of the things we are beginning to watch (them) develop in the northeast Mediterranean as we see these very capable air defense capabilities beginning to show up in Syria," Breedlove said. "We are a little worried about another A2AD bubble being created in the eastern Mediterranean."
Breedlove spoke hours before President Obama was to meet Putin in New York on the sidelines of the United Nations General Assembly session.
Despite his concerns about Russia's intent, Breedlove said the meeting of the two leaders was "incredibly important. We need to have dialogue, we need to have communication with Russia."
The opposite tack was taken by Sen. John McCain, R-Arizona, the chairman of the Senate Armed Services Committee and a harsh critic of the Obama administration's strategy and tactics in the Mideast and elsewhere.
"President Obama's decision to meet with Vladimir Putin is as misguided as it is unnecessary," McCain said in a statement. "It plays right into Putin's hands by breaking his international isolation, undermining U.S. policy, and legitimizing Putin's destabilizing behavior – from dismembering Ukraine to propping Bashar Assad in Syria."
Prior to their meeting, Obama and Putin both addressed the General Assembly, and both appeared to set terms for little compromise on Syria.
Obama said he welcomed working with Putin to end Syria's civil war but called for a "managed transition" as part of a political solution that would result in Assad's ouster.
"We must recognize that there cannot be, after so much bloodshed, so much carnage, a return to the prewar status quo," Obama said.
Putin rejected a solution that left out Assad. "We believe it's a huge mistake to refuse to cooperate with the Syrian authorities, with the government forces, those who are bravely fighting terror face-to-face," Putin said.
Tags: ISIS, Philip Breedlove, Russia, Syria
Login
Comment:  The suggestion that the Pak FA has a better radar cross section than the F-22 is nonsense.  Aviation Week says the radar cross section is uniformly -40dbsm which equates of .0001 square meter.